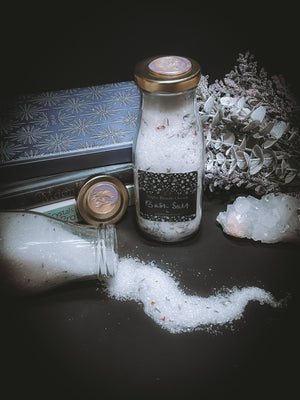 Ritual Bath Salt
Sale price Price $15.00 Regular price Unit price / per
Ritual Bath kits are used to cleanse your body prior to any spell or ritual work to be performed. These contain a rainbow of organic herbs and flowers to align your energies with your intentions. Himalayan salt infused with Rosemary for cleansing and protection, Butterfly Pea flower for beauty, Lavender for relaxation and Roses for love.
Each glass jar contains 12oz of bath mix.
Please use only 1-2 tablespoons per bath. This mixture can last several weeks/ months depending on bath frequency.

This blend can also be boiled down on a low simmer in 6 cups of water for 20 minutes to create a room cleansing spray. Perfect for those with smoke aversions while room cleansing.